If you are looking for a home away from home, just walk in here. You can get both, an incredible and relaxing experience while you are on a holiday. Take a closer look into the rooms we offer and pick the one for you.
Rooms & Accommodation
Available Rooms to experience the delightful decor, complemented with modern amenities for a comfortable stay.
Living Room/ Bedroom
The living room is a mix of contemporary and old world charm, with densely covered Pine trees and mountains providing a serene backdrop. The living room has modern and luxurious features such as a terrace and a sit-out area where you can relax and have a leisurely brunch in the sun. A Murphy wall bed, a stylish and comfortable sofa, and a luxurious wing chair complete the space. A live edge Center Table, a room heater, and a vintage lamp are included. The floor is adorned with a bright rug. The upper bedroom is reached via the stairwell. Large windows line the walls along the stairwell. The living room features a porch with a garden area and huge open windows. - Ventilated rooms with natural light - Best of quality mattress & bedding - Attached bathroom
Master Bedroom
The bedroom is spacious and well-equipped with modern conveniences to provide a pleasant stay. The rustic appeal of the wooden panelling on the walls and ceiling is palpable. The bedroom features a king size bed with industry-leading linens and mattresses, side tables, a wardrobe, and a pleasant reading area with large beautiful windows. Overlooking the magnificent Pine trees, where one may relax with a cup of tea or wrap up with a good book from the tiny library. There is a workstation in the room, as well as an en suite bathroom. Modern sanitary ware is installed in the bathroom. A balcony in the bedroom provides a stunning panoramic view of the mountains. There is a sitting space and a desk on the balcony. - Ventilated rooms with natural light - Best of quality mattress & Linens - Attached bathroom
Kitchen
There is a Kitchenette In the cottage which offers necessary amenities like an induction stove, a microwave, a mini refrigerator, toaster and an electric kettle and tea/coffee station. A RO water purifier is also provided for the guests. Guests are welcome to access the kitchen and cook their own Meals. The kitchen is equipped with kitchen basics like cookware, cooking oil, condiments, dishes and dining utensils.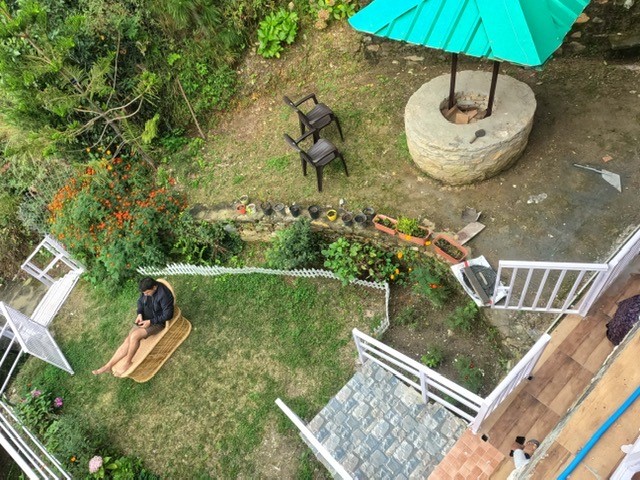 Garden Area
Guests have access to the entire cottage and outdoor space. The garden sit out area comes with a fireplace. The bonfire area allows guests to Soak Up the sun at day and sit by the fire under the starry skies and enjoy the weather mulling with friends and family over drinks. Bonfire can be arranged on requests with prior notice On chargeable basis. The comfortable outdoor seating includes muddas and chairs and with the panoramic view of the mountains you wouldn't want to be anywhere else. You can do your yoga session right in the middle of the mountains. The garden has beautiful landscaping and ambiance lighting for a romantic evening. The garden area is where you can click pics for "Instagram-able photos".
Things That Make Your Vacation More Enjoyable or Comfortable to Stay in



Frequently Asked Questions
Enjoy Unforgettable Experience in Mukteshwar
Cottage Winterfell Awaits Your Visit
Have a Question?

Feel free to reach out and we're happy to answer any questions you may have.